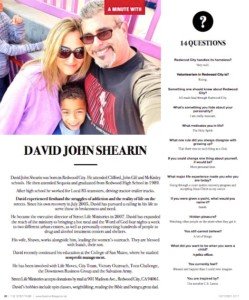 David John Shearin was born in Redwood City. He attended Clifford, John Gill and McKinley schools. He then attended Sequoia and graduated from Redwood High School in 1989. After high school he worked for Local 85 teamsters, driving tractor-trailer trucks. David experienced firsthand the struggles of addiction and the reality of life on the streets.
Since his own recovery in July 2005, David has pursued a calling in his life to serve those in brokenness and need. He became the executive director of Street Life Ministries in 2007. David has expanded the reach of the ministry to bringing a hot meal and the Word of God four nights a week to two different urban centers, as well as personally connecting hundreds of people to drug and alcohol treatment centers and shelters.
His wife, Shawn, works alongside him, leading the women's outreach. They are blessed with Isaiah, their son. David recently continued his education at the College of San Mateo, where he studied nonprofit management. He has been involved with Life Moves, City Team, Victory Outreach, Teen Challenge, the Downtown Business Group and the Salvation Army. Street Life Ministries accepts donations by mail at 901 Madison Ave., Redwood City, CA 94061. David's hobbies include spin classes, weightlifting, reading the Bible and being a great dad.